Try Our Brand New Builder
Create your own unique set up and see the changes in real time
Why HDB Ultimate Handguards™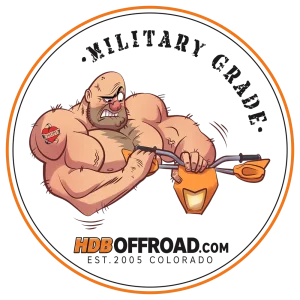 We are a passion-driven, high-quality dirt-bike business, we aim to help you improve your riding experience by providing you with very durable improvements, such as our patented handguards, sturdy display mounts, and much more.
We want you to not have to worry about breaking sh!t, when out in your favorite terrain, we want you to be able to trust that your equipment will deliver as promised!
Should you at any point in time be unhappy with your purchase from HDB, let us know, we want to ensure that everything that leaves the shop, lives up to the standards that we put on ourselves – Never leave unhappy!
Do you have any ideas for parts you want us to try and create? Use the contact form to get in touch with us, and let the experimentation begin.
Have a great ride!  Chad, owner at HDB offroad
TOP-RATED Handguards made in Colorado…
Thank you.
I don't know how many of the handguards I have installed now. (a lot). But these things are worth every penny in the rock gardens and trees. Customers and friends always appreciate the robust guard once they have them.
Installed Highway Dirt Bike Ultimate Handguards. These were one of the best investments I made for this bike. I had a little get-off in some thick mud and snow on the first day and lost it once in some baby head rocks coming down Corkscrew Pass and again on Cinnamon Pass (avoiding traffic). These handguards saved my controls and handlebars.
I just saw the guide to measure on the page for the top clamps. I shoulda pulled the ones from my WR before I sold it. These really are the best handguards I've come across. I'll measure later today and then place my order

Need help installing your gear?
We got you